oKAY - YES, ITS kEVIN bACON, BUT i SWEAR i HAD NOT PLANNED THIS: i JUST SCOOPED THIS UP FROM THE LIBRARY yesterday AND HAD NOT RECOGNIZED BACON ON THE COVER.

I am NOT saying Bacon is a bad actor. I am saying that the movies he (or possibly his agent) chooses to be in are almost always not worth the seeing.


Turns out The Following, a tired, ponderous three-season crapfest on shitholeFOX network is proof positive.

I wanted to write a lot on this, but could not top anything this tv journalist, Brian Lowry, says:

'Barring another wildly improbable twist of the real-life variety, "The Following" aired its last episode Monday, having been canceled by Fox. And the two-hour finale only drove home how the program squandered its assets, with the end coming two years and many dozens (if not hundreds) of killings too late.

Initially promising with the casting of Kevin Bacon and James Purefoy, "The Following" overstayed its welcome, a victim of lazy writing and a decidedly grim streak that treated human life cavalierly even by the standards of primetime crime shows. That included borrowing repeatedly from movies (from "Psycho" to "The Fugitive"), while the life expectancy of FBI agents who weren't series regulars was shorter than the red-shirted crewmen on "Star Trek." '

I wish I wrote that.

"Wildly improbable" is right.
Joe is a serial killer who escapes from deathrow by killing 5 guards within 2 minutes.(In the same room nonetheless!)
Ryan (Bacon) is the guy wot caught him in the first place and he is asked to go to once again, but he has a bad heart due to Joe stabbing him years back.
Now Joe, in penitentary has been a BUSY guy. Turns out ,officials set aside this mass serial killer a few hours a week at an outside library to study law. (If you want to believe that - well, in Canada they allowed Carla Homolka that one, and, who knows, she just might be a practicing lawyer today. Such is Leutonia.)
In these few hours a week, Joe-Joe managed to internet-amass and mastermind/totally-brainwash a network of devoted followers which graduate from being serialkillers-in-the-making (acolytes) to full-blown devils.
Alright, you gonna believe that one?
Aye?
Okay, howabout this:
This series makes FBI agents look like total clueless dunderheads.
When Joe escapes, first thing he wants is revenge on specific people : his ex-wife,the woman in the jury wot fingered him, etc.
In each case the dummy-FBI at least know from the start that Joe is going to go straight for them, so instead of going the taxpayer's money-saving route of isolating the human targets (perhaps in a protection cell or perhaps secret them out to some other remote country with new identity) they allow the targets to stay in their own homes and they put 20 FUCKING-OR-SO police outside & within the home.

Joe-joe kills them all the same because Joe-Joe (apparently) has some god/supernatural power to manipulate peeps over the internet (this takes much longer than you would think - Ive been attempting to manipulate you lot here to suck my virtual dick for years and I'd not wager I'm doing any well at it.),
Joe-Joe has - get this - TWO YEARS AGO planted two pretend-homo acolytes to occupy the house next his ex-wife and also a brainwashed Joe-Joe-devoted nanny to take care of his son.
(Of course, predictably enough, the son is later kidnapped too, right under the nose of the coffee-sipping FBI mob.

Such is the internet brainwash prowess of our man Joey, that right at the beginning of the series, a young acolyte of his, walks into a police station and, AFTER GETTING A ONE SENTENCE MISSIVE from Joey on the handheld pooter,strips down and plunges a knife to her heart.

Her body is covered with the words to EA Poe's "The Raven" cos Joey was a university professor specializing in Romantic literature and becoming a Poe-wannabe. This Poe fixation returns throughout the series and could have been a winning-formula were it mined correctly by the slack author of this tripe. But the author (possibly rightly) underestimates the average Fox-dummy audience with their knowledge of Poe and doesnt go deep enough. (The movie "The Raven" ( starring Cusack) , which has a similar serial-killer-influenced-by-writings-of-Poe theme, goes deeper and is much more interesting than this shit.)

One, however; good touch is that beefwhore the woman kills herself she says "May God forgive my poor soul", reputedly what Poe actually said whilst he was dying in the gutter of Baltimore. But instead of giving the audience credit for actually knowing this tidbit, the author has Poe-guru Ryan explaining it immediately.


wHAT WE ARE EXPERIENCING NOWADAYS IS A VERITABLE RUSH OF PROLONGED HBO-LIKE drama series. ONE AFTER THE OTHER. Seems like there is a new one out every month now.This over-extending of theme - by a cutoff average of three seasons (some going as far as 6) - flys in the face of ENGAGEMENT OF THE AUDIENCE ATTENTION. Not to mention CREDIBILITY. What started out as quality HBO programming is rapidly devolving into these interminable series things, more-and-more tending to resemble fricken soapoperas where every month there is the regurgitated baby-kidnapping or coma-victim plot.
Simply put - they are putting out TOO MUCH TOO QUICKLY.

The intent is not necessarily to bore the audience with repetition, but the extension formula is prone to this all the same. They don't seem to want to recognize that it is basically impossible to , on dragging a program thru three series, put the reins on insipidity and deficiency.

Most series I watch to the end. But this stupid ( 15 episode ,season 1) fucker I dropped after the second episode WHERE THEY HAD ALREADY REPEATED THE kill the victim-right-under-the-nose-of-the-FBI-protection-suqad THREE TIMES!

i MEAN, THIS BEGGARS BELIEF.

Last edited by Wallace on Fri Nov 06, 2015 2:53 pm; edited 1 time in total

Wallace

WALLY THE TOTAL FRIENDLY FRUITCAKE




Posts

: 23266


Join date

: 2012-10-26



I dropped off after the first line   





Thanks for your honesty.

You replied so swiftly after my posting, I KNOW you didn't read fuck, Hubert.


But , like I said, these posts are not for you.

Go back to revelling in South Pacific.

Wallace

WALLY THE TOTAL FRIENDLY FRUITCAKE




Posts

: 23266


Join date

: 2012-10-26



Then why you post this shit???
I am a speed reader fell asleep at the first line and woke up on the last paragraph.
You are like a sleeping Pill thanks. 
Mitzi Gaynor in South Pacific.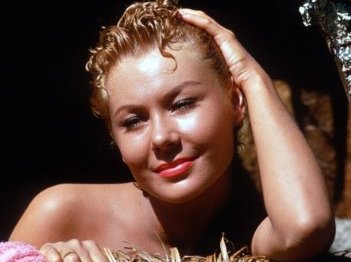 Still wanking with that Wakeman Doll Herbert
You wank to your South Pacific Ray Walston man-doll.
You put Ray's plastic head up your shooter.

Wallace

WALLY THE TOTAL FRIENDLY FRUITCAKE




Posts

: 23266


Join date

: 2012-10-26



Put this up yer Bum  
  And smell it.

Rudolph Hucker

INSANE BASTARD




Posts

: 14943


Join date

: 2013-10-07



B. J. Voster wrote:I dropped off after the first line   

Rudolph Hucker

INSANE BASTARD




Posts

: 14943


Join date

: 2013-10-07



---
Permissions in this forum:
You
cannot
reply to topics in this forum